New Vacancy - Civil Litigator
Posted: 4th August 2020
Civil Litigator/Personal Injury
Watson Woodhouse Ltd is expanding their Civil Litigation team and seek an innovative and forward thinking Fee Earner / Senior Clerk to work from their Middlesbrough office,.
Our team works across multi-discipline areas including Civil Actions Against Public Authority; Inquests; CICA; Abuse Claims; Human Rights; Judicial Review; Defamation / Misuse Private Information and Personal Injury work. We offer Legal Aid in the areas of CAPA; Inquest and Housing Litigation.
Our team have been involved in high profile and ground-breaking cases and continue to fight for the rights of some of the most vulnerable members of society.
The role
The candidate will initially offer case progression support to two of the senior fee earners – with view to developing the knowledge and skills to manage an independent caseload predominately in the areas of CAPA; inquests/inquiries; Human Rights; Abuse and Psychological injury claims.
To assist with the marketing and expansion of the department as a whole.
To develop and use external links to promote the team and build work streams
Main duties and responsibilities
Assisting Senior Fee Earners with complex cases;
The work is varied and will involve undertaking a range of activity including legal research and assisting with case preparation;
Attendance at Client meetings; hearings and Court to liaise with Clients, Counsel, Defendants, Coroner; IOPC and other third parties
Taking witness evidence, drafting instructions and correspondence to clients, court and defendants;
The role will also include administrative work such as document; file management and billing assistance;
Dealing with all forms of funding, including Legal Aid and CFA's and submitting applications to the LAA online via CCMS.
Person Specification and preferential skills
Legal qualification preferable but not essential;
Equivalent to 3 years PQE desired, but all candidates with relevant experience considered, including those who are unqualified but have a passion and commitment to fight for justice;
Experience in dealing sensitively with clients and experts, providing solutions and managing difficult situations and conversations;
Experience of working with vulnerable clients;
Excellent communication skills, demonstrated by an ability to communicate accurately, clearly and concisely, both verbally and in writing;
Excellent time management skills, demonstrated by ability to organise and prioritise a complex workload and work to tight deadlines;
Ability to work in and contribute to a team environment;
Ability to multi-task, work well under pressure and use own initiative.
Competitive salary, excellent prospects and training provided.
Email covering letter, CV and salary expectations to Vicky Thomas HR Manager email vicky.thomas@macks.co.uk
Should you have any questions about the role/department please feel free to contact our recruitment team at the email above and they will respond directly.
Preference to have experience in issues including:
Civil Actions Against Public Authority
Inquests
CICA
Abuse Claims
Human Rights
Judicial Review
General Civil Disputes
Defamation / Misuse Private Information
Preferable to have experience in Legal Aid Finding
New Vacancy - Duty Solicitor
Posted: 22nd June 2020
Watson Woodhouse Solicitors are offering an exciting opportunity for a qualified Duty Solicitor to join their criminal litigation team.
This role offers a fantastic opportunity to join our large, successful and thriving law firm, with offices across the North East and Yorkshire, and is perfect for an individual seeking to progress a successful career in law.
POSITION: DUTY SOLICITOR
As a Duty Solicitor you will be an accredited police station representative and have at least 1 years PQE
Requirements:
Candidates must be highly motivated and reliable;
Candidates must have excellent communication skills, and must be strong team players;
Candidates must be able to demonstrate exemplary client care and organisation skills;
Candidates must be flexible in their work structure and be able to demonstrate an exceptional work ethic.
 A competitive salary is offered together with flexible work hours and fantastic career development opportunities.
If you are interested in this position please email a copy of your CV for the attention of Victoria Molloy, at vmolloy@watsonwoodhouse.co.uk.
New Vacancy - Police Station Representative
Posted: 7th April 2020
We are offering, to the right candidate, a fantastic opportunity to join our expanding crime department, perfect for an individual seeking a career in criminal law.
---
POSITION: POLICE STATION REPRESENTATIVE
We are looking for a highly motivated individual to assist our call centre team in delivering remote advice and assistance to those detained at the police station. This is a full time position, and the successful candidate will receive full training and supervision.
Requirements
Candidates must hold a Probationary or full Police Station accreditation qualification.
Candidates must be both highly motivated and reliable.
Candidates must also be strong team players.
 A competitive salary is offered together with the option to earn additional fees from police station attendances at the best paid rates in the North East.
As a successful candidate, you will hold either a probationary or a full police station accreditation qualification and be able to demonstrate that you are both self motivated, reliable and a strong team player.
---
If you are interested in this position please email a copy of your CV for the attention of Victoria Molloy, at vmolloy@watsonwoodhouse.co.uk.
Notices of Possession and Eviction Proceedings in relation to Covid-19
Posted: 1st April 2020
During this difficult and uncertain time, we appreciate tenants will be concerned about the impact of Coronavirus on their ability to stay in their rented property.
On 25th March 2020, the government introduced the Coronavirus Act 2020 to provide tenants with protection from eviction. The new legislation is in force until 30th September 2020 but the Government does have the power to extend this period if necessary.
The main point tenants must be aware of is that the new legislation does not provide any relief from paying your rent. You are still under an obligation to keep to the terms of your tenancy agreement including continuing to make your rent payments.
Therefore, we advise you to continue paying your rent and if you do find yourself in financial difficulties you must communicate with your landlord with the hope of coming to an agreement.
New Notices Seeking Possession
The legislation provides that as of 26th March 2020, if your landlord seeks possession of your property they are required to provide you with at least 3 months' notice from the date the notice is served. Therefore, your landlord is unable to commence court proceedings to evict you from your home for at least 3 months.
As per the new legislation, your landlord must serve you a notice seeking possession in the prescribed format and provide you with certain specific information. Therefore, if you do receive either a s.21 Notice or s.8 Notice seeking possession, please do not hesitate to contact our specialist housing law department on 01642 247656. We will be able to review all documentation on your behalf to determine whether your landlord's Notice Seeking Possession is valid or not and provide you with the appropriate advice moving forward.
Existing Notices Seeking Possession
The legislation does not account for notices of possessions that have already been served to you by your landlord before the introduction of the Act. However, the government has provided guidance on this situation and confirmed that all ongoing housing possession court cases or those about to go into the system are to be suspended for an initial 90 days. Therefore, your landlord will be unable to progress possession or eviction proceedings through the courts to eviction.
If you believe you are due to have a possession/warrant hearing at court in the near future or if you have any concerns about your situation, please do not hesitate to contact our housing law department for specialist advise.
Our facilities allow our housing advice specialists to offer telephone and video call services such as skype / zoom / facetime to provide you with the best possible support throughout this difficult time.
We also have a Legal Aid franchise which allows us to assist tenants throughout the crisis by providing funded assistance under the legal help and assistance scheme to those who are eligible. We also offer a FREE 20 minute consultation and virtual advice clinics.
Contact us today on 01642 247656  or EMAIL housingdepartment@watsonwoodhouse.co.uk 0R TEXT 07876797578.
Non-Molestation Injunctions and Occupational Orders in relation to COVID-19
Posted: 27th March 2020
It is essential that the Court continues to meet the needs of those needing protection during the National Public Health Crisis.
Non-molestation injunction applications will be heard by Skype or by telephone.
At the conclusion of the hearing the Court will draw any orders and will send them to the relevant police force.  Ordinarily the Court will make such orders to last for 6 or 12 months subject to the right of the respondent to ask the Court to reconsider the order.
The Court will list a return date within 14 days when the respondent only need attend by telephone or by Skype. If the respondent fails to notify the court or, having done so, fails to make themselves available at the time of the hearing, the Court will continue the injunction orders.
If the respondent attends the hearing and wish to challenge any orders made without notice the court will fix a further remote hearing for both parties to attend by Skype or by telephone when further directions will be given.
If you are experiencing domestic abuse or feel you or your children are at risk of harm. Please contact the office as a matter of urgency, our family solicitors are working throughout and will be available to give you specialist advice. You are not alone during this crisis.
If you would like to speak to a member of the family department, then call us on 01642 247656 or visit https://www.watsonwoodhouse.co.uk/service/family-law/ for more information.
Coronavirus Crisis: Guidance on Compliance with Family Court Child Arrangement Orders
Posted: 25th March 2020
https://www.judiciary.uk/announcements/coronavirus-crisis-guidance-on-compliance-with-family-court-child-arrangement-orders/
Here are some practical points to consider.
1. Make use of Zoom, WhatsApp video calls, FaceTime and Skype. Agree that these calls can take place more regularly than may have happened before.
2. Allow time for children to make a video for the parent they may not be able to see as regularly.
3. If children are able to move safely between their respective parents' homes, agree what is and is not appropriate during their time with the children. For example, are both parents in agreement that it is not appropriate to take the children to the supermarket or to a local park, or is that something both parents would feel comfortable with if appropriate supervision is in place.
4. Agree on what is expected in relation to school work now that the schools are closed. Draw up a daily timetable for schoolwork that each parent will be able to follow taking into account their own work commitments. Most school work is online but if it's not, and the children are still moving safely between homes, parents need to make sure that the children have the books and resources they need.
5.  If one parent is missing out on time with the children, consider agreeing additional holiday time later in the year. Parents need to be as flexible as possible with arrangements.
6.  Whatever adaptations and changes are necessary, children will need to feel reassured that their parents love them and will be there for them in whatever way possible. We need to remember that the current situation will be causing most children anxiety and it is therefore even more crucial than ever to minimise parental conflict.
5. If you can't agree on changes to arrangements, consider an urgent telephone/webcam meeting with a mediator or trusted neutral third party.
Sadly, there are many parents for whom communication is difficult or impossible. If agreement cannot be reached or one parent feels that they are being unfairly excluded, an application can still be made to court. The Court will be dealing with court hearings remotely. However, this is very much a last resort and specialist legal advice should be obtained before making an application either to enforce an existing arrangement or make a new one.
As are many other businesses, we are adjusting our current working practice and procedure due to the Government advice on dealing with the coronavirus Covid-19 outbreak, which is changing on a daily basis.
At present we have members of staff who are working from home and others that are working within the office but our ultimate goal is to, as far as is possible, offer a 'business as usual' service to you and all other clients.
In light of the above we would request that email is used as the primary method of communication wherever possible.
Should our position change due to further advice provided by the Government we will update you accordingly.
We appreciate that we are in a time of uncertainty and unknown, and we want to reassure people that we are here to help you with your legal needs. If you would like to speak to a member of the family department, then call us on 01642 247656 or visit https://www.watsonwoodhouse.co.uk/service/family-law/ for more information. We also have a LIVE CHAT available via our website for clients to contact us online.
Response to COVID-19
Posted: 18th March 2020
We are committed to the safety and health of both our staff and our clients and are therefore introducing new procedures to minimise disruption to our work and our clients during this time.
From 24th March our offices are closed and our staff are working remotely via a secured connection, however, they will still be contactable by email and telephone in the usual fashion.
We would draw all clients' attention to our privacy notice and terms of business on this site.
We would encourage all clients to ensure that we have your most up to date contact details, in particular telephone and email, in order that we can contact you promptly if necessary.
Client Meetings
We are able to offer telephone and video meetings as an alternative to attending at our offices in accordance with the guidance from the government.
Courts
We are continually monitoring the position in relation to the Court Service.  At present the Courts remain open and the majority of hearings are going ahead as planned and we will contact clients individually if their hearings are postponed.  We will update this page if this changes at any point.
Clinics
Our Law Clinics at the Stockton and Berwick Hills offices are now Virtual Law Clinics. Those wishing to access the clinics can call us or use our online chat facility to make an enquiry. There is no need to make an appointment – the virtual drop-in sessions will be running at the usual times of:-
Wednesday 1:30pm – 5:30pm
Thursday 2:00pm – 6:00pm
Saturday 10:00am – 2:00pm
Ministry of Justice Agrees Medomsley Compensation Scheme
Posted: 10th March 2020
Abuse Claims Experts at Watson Woodhouse Solicitors continue to fight for justice for the victims of Medomsley Detention Centre following the Ministry of Justice agreeing on a compensation scheme.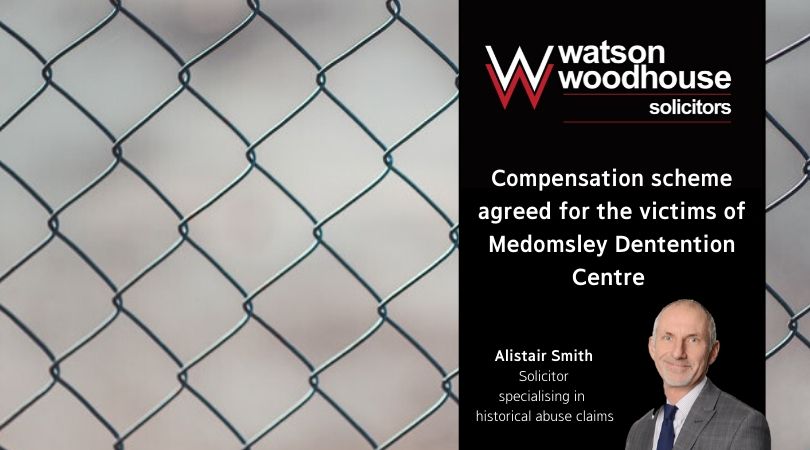 Alistair Smith and the Abuse Claims Department at Watson Woodhouse Solicitors have been leading the fight for justice for the victims of Medomsley Detention Centre and welcome the Ministry of Justice's move to set up the Medomsley Compensation Scheme.
Medomsley Detention Centre was a prison for young male offenders from 1961 until the late 1980s, providing a place for young offenders aged 17-21 to prevent them from being sent to a mainstream prison. At Medomsley, during their stay of usually around six to eight weeks, some inmates were subjected to sexual, physical and mental abuse from prison officers.
Alistair and the team at Watson Woodhouse have helped many Medomsley victims in their fight for justice and compensation for the abuse they experienced. Now, after months of discussion with the Ministry of Justice, the Medomsley Steering Group, who represent over 1000 claimants, have agreed on a settlement scheme designed to help provide compensation to former Medomsley inmates affected by the abuse that occurred.
How does the Medomsley Compensation Scheme work?
The scheme provides an amount of compensation relative to the length of time an inmate was detained. There is a provision in the scheme to compensate for lasting injuries, physical and psychological, so long as there is medical evidence to support the claim.
To be eligible for the scheme:
You must have suffered physical abuse from a member of staff who was employed at Medomsley during the period you were detained and who has received a criminal conviction in respect of such offences; and
You must have independent evidence of your period of detention.
Under the scheme, physical abuse is defined as "the direct application of unlawful force". Therefore punishments such as being ordered by Officers to run the perimeter fence or being made to perform bunny hops will be excluded from the scheme.
The scheme will fall into three categories:
You were detained at Medomsley for three months or less and will receive a payment of compensation for the sum of £1750
You were detained at Medomsley for more than three months and will receive a compensation payment of £2500
You have provided medical evidence to show you have sustained a long term physical or psychological injury as a result of your stay at Medomsley and will receive a payment of between £3000 and £5000
Long lasting injuries are injuries that have lasted for a significant period of time beyond the time of detention. This can include fractures, dislocations, scarring, and emotional injuries such as depression and Post Traumatic Stress Disorder. You must provide medical evidence to support your claim.
To date, the members of staff who have received a criminal conviction are:
Christopher Onslow   "Machine / Mean Machine"
John McGee              "Big John / Pigeon Man"
Brian Greenwell         "Puppet"
Kevin Blakely            "Broken Nose"
Alan Bramley            "Bong Eye"
In November 2020, there will be another criminal trial involving Ian Nicholson and Alexander Flavell.
How Watson Woodhouse Can Help
At Watson Woodhouse, our solicitors have acted for many victims of historical abuse and understand the trauma survivors have to deal with on a daily basis. We deal with all cases in a sensitive and confidential manner, with both male and female solicitors available to provide advice and support on a 'No Win, No Fee' basis. With Medomsley Detention Centre and other historical abuse cases we will not be deducting success fees from claimant's awards, so our clients will keep 100% of the compensation they are awarded.
Watson Woodhouse Solicitors offer a no obligation, free initial consultation with flexible appointments to suit your needs.
If you have been the victim of abuse at the hands of Medomsley Detention Centre and would like our support to take action, you can speak to Alistair Smith, or another member of the team by calling us today on 01642 247656.